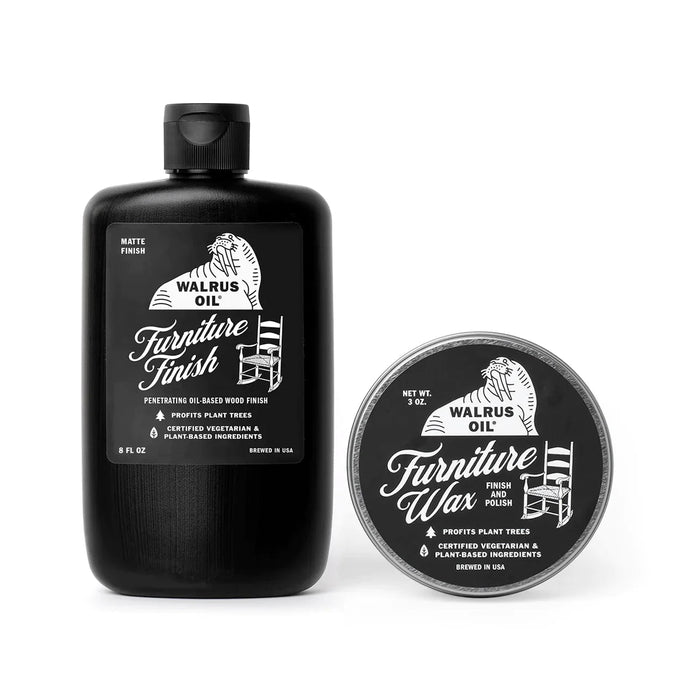 Walrus Oil Furniture Finish and Wax Bundle
Sold out
Original price
$27.99
-
Original price
$27.99
FURNITURE FINISH, 8oz Bottle
Walrus Oil's Furniture Finish is ideal for hardwood chairs, dressers, picture frames and other woodworking projects that call for a curing oil, our Furniture Finish brings out natural colors and drys to a beautiful matte finish. Simply apply oil, dry for 24 - 48 hours, and wipe away excess. Fully cures over time, usually by 4 weeks. Store in cool and dry place.

FURNITURE WAX, 3oz Can
Walrus Oil's Furniture Wax is designed to add water protection and a little extra color and richness to furniture and woodworking projects. Also useful for polishing furniture and wood items. Apply a thin layer of wax, buff away excess after 1 hour, then allow 24 hours to cure. Store in cool and dry place.


Polymerizing
Matte/Satin Finish
Lightly Scented
Vegan Friendly
Project Ideas:
Tables and Chairs
Bookcases and Shelves
Coffee Tables
Picture Frames
Wooden Boxes