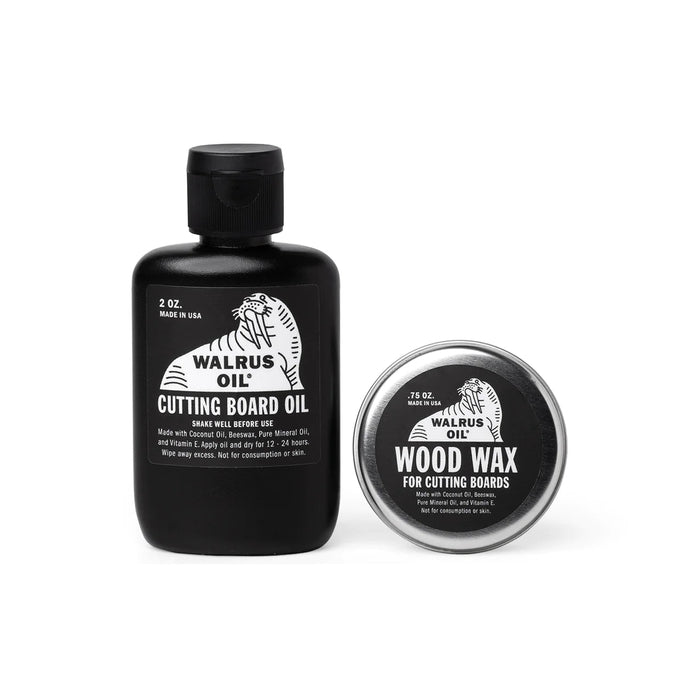 Walrus Oil Cutting Board Oil and Wood Small Sizes (Case of 24 Each)
Sold out
Original price
$159.99
-
Original price
$159.99
CUTTING BOARD OIL, 2oz Bottle
Walrus Oil is a proprietary wood finish recipe made up of Coconut Oil, Mineral Oil, Vitamin E, and Beeswax, FDA compliant for food contact surfaces such as cutting boards and butcher blocks. Walrus Oil is a liquid form and does not solidify under normal conditions, its highly shelf stable and has virtually no scent. It goes on smooth, not too thick and not to thin, and won't contaminate food with a strange taste. It will leave your board with a silky smooth finish, rich color, and a little shine. Use two coats for more depth and color.

WOOD WAX, .75oz Can
Our Wood Wax is very dense and a pinch goes a long way. Handcrafted with Beeswax, Coconut Oil, Mineral Oil, and Vitamin E. It can be used as a standalone product or after applying a layer of our Cutting Board Oil. Wood Wax will add extra protection from water and moisture while bringing out more vivid wood color and shine. Simply apply a thin layer of wax, dry for 15 minutes, then buff with a rag.




Case of 24 Each (48 total product units)