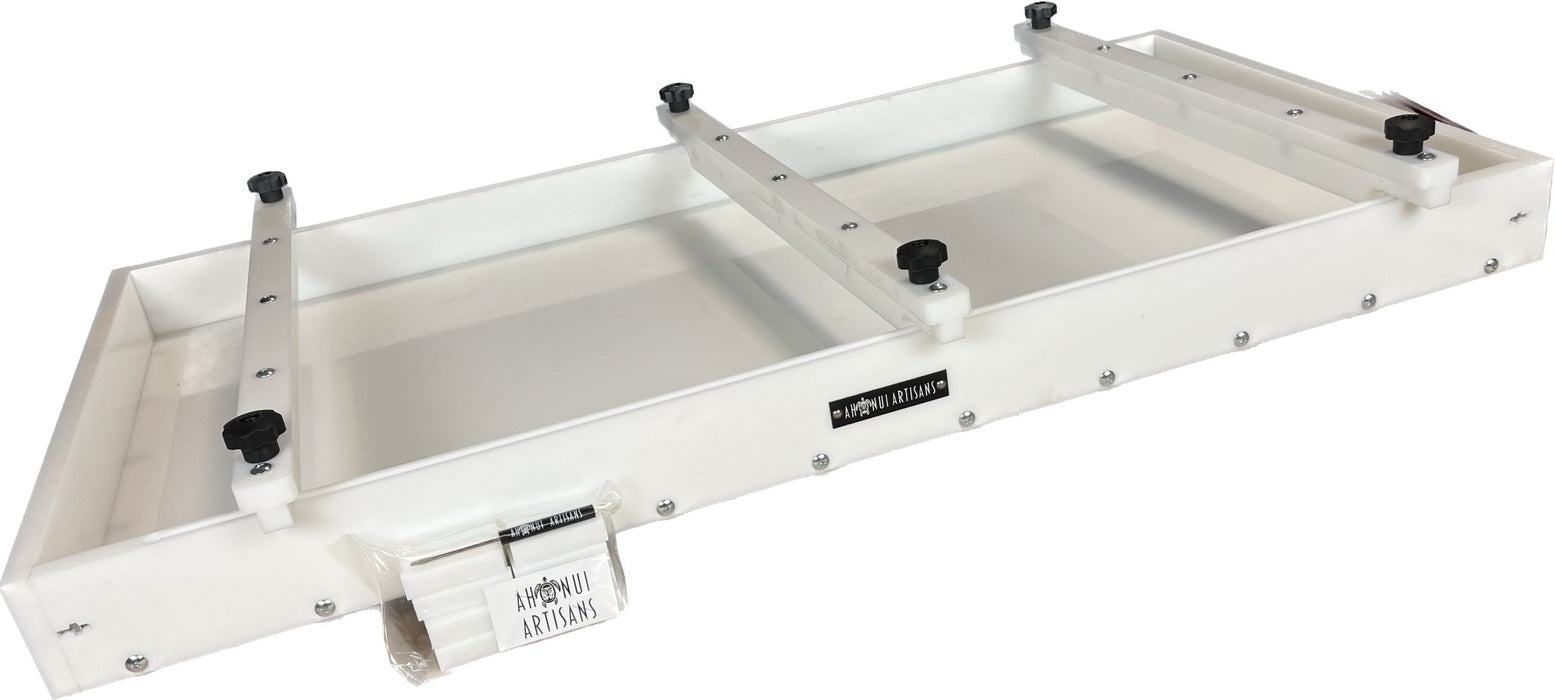 Ahonui Artisans Coffee Table HDPE mold
Original price
$589.00
-
Original price
$589.00
The Original Reusable HDPE Epoxy Resin Form with T-track Clamping System in Coffee Table Size measures:
48" long x 24" wide x 3" deep
All measurements are INTERIOR dimensions.
The form will be sent unassembled.
What is included in the box:
 All threaded inserts and T-track will be pre-installed

(3) Extra Sturdy HDPE Clamp Bars

(3) Sets of T-track Hardware

(1) 10 oz. tube of RTV

(1) HDPE Coffee Table Form Base

(2) Long HDPE Coffee Table Form Sides

(2) Short HDPE Coffee Table Form Sides

(12) HDPE Clamp Blocks

All Necessary Hardware for Assembly

Purchase Bonus Coupon Codes
This form does not come with a leveling kit. A leveling kit is not recommended for use on this form due to the weight of the resin and wood possibly causing your form to sag if it is only supported in 4 small places. It is best practice to set this form on a large, level work surface which will fully support the size and weight of the form and its contents.
Disclaimer:
This form is intended to save you the hassle of completely rebuilding, taping, spraying releasing agent, and finding clever ways to clamp your work in place. These forms will produce a blank, not a finished product. This form is intended to make setting up and resetting for your next pour as quick and efficient as possible to maximize work flow. It is not intended to produce a final piece that is ready to sell. Form kit only, stock not included. 
Due to the slick nature of the HDPE, there will be minor manufacturing "scuff" marks on the surface of the form. These marks will transfer to your resin but will be planed and/or sanded away very easily when working the blank to final thickness. These scuffs will in NO way affect your final piece.