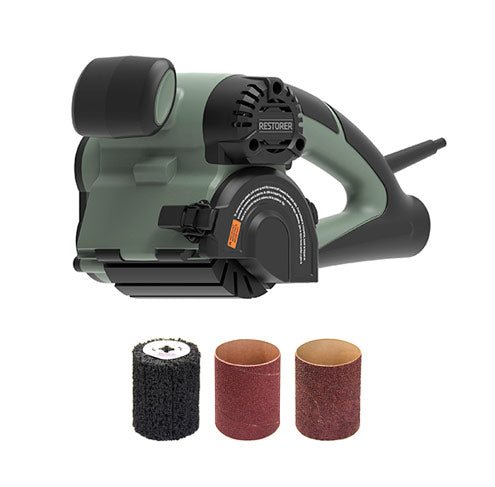 RESTORER Official
Pre-order
Original price
$125.00
-
Original price
$125.00
Original Restorer Tool | Designed by Robert Kundel Jr - Inventor's Original - The Original Restorer Tool for material removal that would normally require the use of many different hand tools and power tools.
This patented handheld or benchtop tool can be used to buff, sand, grind, polish, scrub, or clean any surface. Its balanced and compact for maneuvering in tight areas and around tough obstacles. Use it on surfaces that are flat or curved, wet or dry. The Restorer can be fitted with any type of roller from abrasives to wire wheel. The pistol grip allows for one-handed tool control or use the front palm grip to work vertically or overhead. Connect a vacuum source to the output port to efficiently clear away debris.
Thanks to its unique interchangeable drum, the Restorer brings you many of the benefits of both a belt sander and an angle grinder. When compared to a belt sander, it is lighter, easier to handle, and more versatile, thanks to the wide variety of accessories. Weighing in at just 4.5 lbs, the Restorer is less than half the weight of most belt sanders. It is also much more compact for maneuvering in tight areas. The barrel-shaped roller quickly flings debris away from the surface, which decreases heat build-up and clogged abrasives. When compared to an angle grinder, the Restorer yields a much smoother finish, particularly on wood, where the flat roller helps prevent gouging and the abrasive can be aligned with the grain. The tool is well-balanced, with a pistol grip for one-handed use, and a front palm grip for working vertically or overhead.
Included in this Kit:
1 x 33mm Euro Dust Port Adapter (New)
1 x 16' Power Cord (New)
1 x 3.5amp RESTORER Tool
1 x 60 grit sanding sleeve
1 x 80 grit sanding sleeve
1 x 46 grit rust/paint removal roller
Delivery time
Due to market conditions this item is available for order but not currently in stock. We will provide you with tracking info as soon as we have more information. If you would like specifics please reach out to us directly.