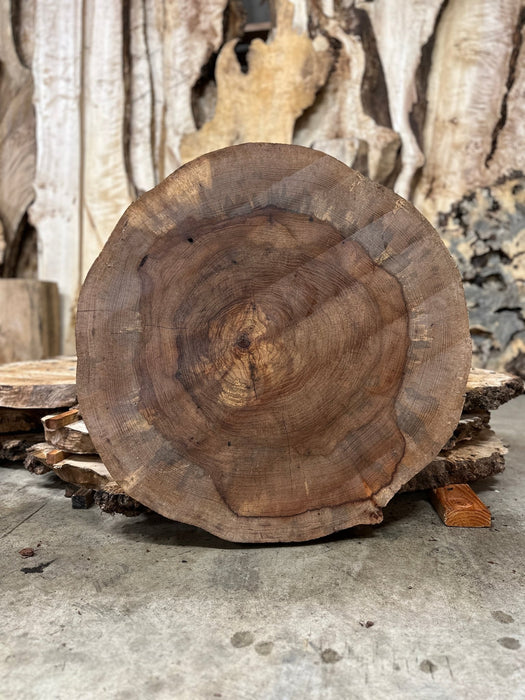 LiveEdge Pecan Cookie
Original price
$206.00
-
Original price
$206.00
Species: Pecan

Length: 29"
Width (Bottom): 20"
Width (Middle): 29"
Width (Top): 20"
Thickness: 2.25"
Board Foot: 10.42 BDFT
Weight Estimate: 43 Pounds

Origin: Washington

Shipping Information:

-Slab Ships From: Battle Ground, Washington
-All slabs are subject to freighted shipping. Once purchased, we will contact you via email to coordinate and secure the best negotiated shipping rate for your location. Shipping costs are based on your zip code, residential/commercial address classification, and whether a liftgate/forklift is required.
If you can't find a slab that perfectly fits your needs among our listed options, feel free to reach out to us directly. We can check our inventory for additional slabs that may suit your preferences.

Contact Information:

-Email: info@hamiltonleesupply.com
-Phone: 360.601.8388

Transform your vision into reality with our remarkable Live Edge slabs. Embrace the artistry of nature in your next woodworking project and create a unique masterpiece for your home.

Crafted with precision and attention to detail, this kiln-dried slab is project-ready, ensuring minimal wood movement and cracking. Our state-of-the-art iDry vacuum kiln removes moisture, guaranteeing its suitability for your project right away.

Please note that as each tree is unique, no two slabs are alike. This individuality guarantees that your furniture piece, whether it's a table, shelf, or any other creation, will be truly one-of-a-kind.

At Hamilton Lee Supply, we are committed to preserving and reusing stunning wood materials. Our focus on sustainability means that every slab tells a story and contributes to a greener future.

Common Name(s): Pecan
Scientific Name: Carya illinoinensis
Distribution: Native to the south-central United States and Mexico
Tree Size: Typically reaches 100-130 feet (30-40 meters) in height with a trunk diameter of 2-4 feet (.6-1.2 meters)
Average Dried Weight: Approximately 46 pounds per cubic foot (735 kilograms per cubic meter)
Specific Gravity (Basic, 12% MC): Ranges from 0.60 to 0.74
Janka Hardness: About 1,820 pounds of force (8,100 Newtons)
Modulus of Rupture: Approximately 13,700 pounds per square inch (94.5 MPa)
Elastic Modulus: About 1,730,000 pounds per square inch (11.93 GPa)
Crushing Strength: Estimated at around 7,850 pounds per square inch (54.1 MPa)
Shrinkage: Radial: 4.9%, Tangential: 8.9%, Volumetric: 13.6%, T/R Ratio: 1.8

Color/Appearance: The heartwood of Pecan is usually light to medium brown with a reddish hue, while the sapwood is a paler yellowish brown.
Grain/Texture: Typically straight grain, though occasionally wavy, with a medium texture and low natural luster.
Endgrain: Pecan is ring-porous to semi-ring-porous, featuring large to very large earlywood pores in a single intermittent row, and medium to small latewood pores that are solitary or in radial multiples of 2-3. Tyloses are common, and narrow rays are closely spaced.
Rot Resistance: Heartwood is considered non-durable to perishable regarding decay, and it is susceptible to insect attack.
Workability: Pecan can be challenging to work with, often causing tearout during machining operations if cutting edges are not kept sharp. However, it responds well to steam bending. It glues, stains, and finishes well.
Odor: Pecan does not have a characteristic odor.
Allergies/Toxicity: No significant health reactions have been associated with Pecan, apart from the general risks associated with wood dust. Refer to Wood Allergies and Toxicity and Wood Dust Safety articles for more information.
Pricing/Availability: Pecan wood is typically mixed with other Hickory species and sold as Hickory. Prices are usually in the low to mid range, similar to other utility hardwoods such as Red Oak or Soft Maple.
Sustainability: This wood species is not listed in the CITES Appendices or on the IUCN Red List of Threatened Species.

Common Uses: Pecan is commonly used for tool handles, ladder rungs, wheel spokes, and flooring. It's known for its strength and shock resistance.
Comments: Pecan is one of the hardest and strongest woods native to the United States, although it has slightly lower strength values compared to some other Hickory species. It is often used in applications where strength or shock resistance is important. In addition to its wood, Pecan trees also produce Pecan nuts used in snacks and cooking recipes. Pecan wood has a high thermal energy content when burned, making it suitable for use as fuelwood in wood stoves. It is also used as charcoal for cooking meat, imparting additional flavor to the food.