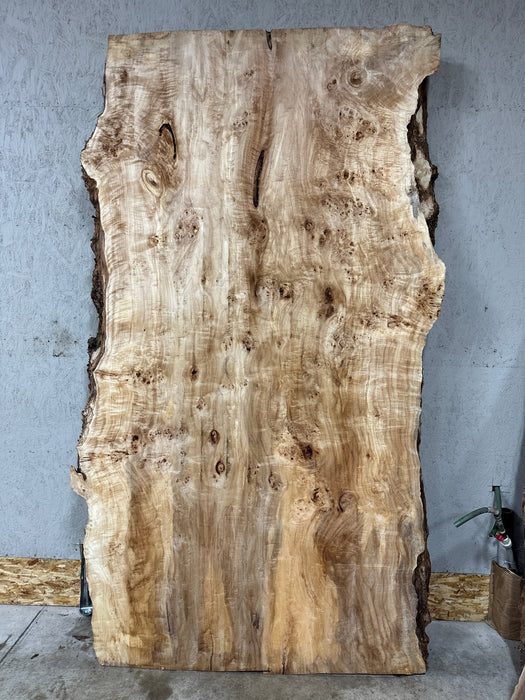 LiveEdge Mappa Burl
Original price
$6,154.00
-
Original price
$6,154.00
Species: Mappa Burl

Length: 117"
Width (Bottom): 65"
Width (Middle): 62"
Width (Top): 61"
Thickness: 3"
Board Foot: 152.75 BDFT
Weight Estimate: 636 Pounds

Origin: Washington

Shipping Information:

-Slab Ships From: Battle Ground, Washington
-All slabs are subject to freighted shipping. Once purchased, we will contact you via email to coordinate and secure the best negotiated shipping rate for your location. Shipping costs are based on your zip code, residential/commercial address classification, and whether a liftgate/forklift is required.
If you can't find a slab that perfectly fits your needs among our listed options, feel free to reach out to us directly. We can check our inventory for additional slabs that may suit your preferences.

Contact Information:

-Email: info@hamiltonleesupply.com
-Phone: 360.601.8388

Transform your vision into reality with our remarkable Live Edge slabs. Embrace the artistry of nature in your next woodworking project and create a unique masterpiece for your home.

Crafted with precision and attention to detail, this kiln-dried slab is project-ready, ensuring minimal wood movement and cracking. Our state-of-the-art iDry vacuum kiln removes moisture, guaranteeing its suitability for your project right away.

Please note that as each tree is unique, no two slabs are alike. This individuality guarantees that your furniture piece, whether it's a table, shelf, or any other creation, will be truly one-of-a-kind.

At Hamilton Lee Supply, we are committed to preserving and reusing stunning wood materials. Our focus on sustainability means that every slab tells a story and contributes to a greener future.

"Common Names: Black Poplar, Lombardy Poplar, Mappa Burl

Scientific Name: Populus nigra

Geographical Distribution: Native to Europe, western Asia, and Northern Africa; cultivated as an ornamental tree in North America

Tree Size: Grows to heights of 65-100 feet (20-30 meters) with trunk diameters ranging from 3-5 feet (1-1.5 meters)

Average Dried Weight: Approximately 24 pounds per cubic foot (385 kilograms per cubic meter)

Specific Gravity (Basic, 12% Moisture Content): 0.31, 0.39

Janka Hardness: 460 pounds of force (2,020 Newtons)

Modulus of Rupture: 9,230 pounds per square inch (63.7 Megapascals)

Elastic Modulus: 1,045,000 pounds per square inch (7.21 Gigapascals)

Crushing Strength: 5,220 pounds per square inch (36.0 Megapascals)

Shrinkage: Radial: 4.0%, Tangential: 9.3%, Volumetric: 12.3%, Tangential-to-Radial Ratio: 2.3

Color and Appearance: Heartwood typically exhibits a light brown color, while sapwood is pale yellow to nearly white, blending gradually into the heartwood. This wood species also produces distinctive burls often sold as Mappa or Mapa.

Grain and Texture: Generally straight to slightly irregular or interlocked grain with a uniform medium texture and low natural luster.

Endgrain: Data not available.

Rot Resistance: Rated as non-durable and susceptible to insect infestation.

Workability: Easily worked with hand and machine tools, though sharp cutters are recommended to prevent fuzzy surfaces during planing (subsequent fine-sanding may be required for a smooth finish). Black Poplar wood has a tendency to warp and distort when drying. It glues and finishes well.

Odor: Lacks a distinctive odor.

Allergies and Toxicity: Apart from the standard health risks associated with wood dust, there are no known specific health reactions linked to Black Poplar. Refer to articles on Wood Allergies and Toxicity and Wood Dust Safety for more information.

Pricing and Availability: Widely available as utility lumber in Europe; limited availability of harvested ornamental trees in North America. Prices are generally low for domestic hardwood, but burl sections can be quite expensive and are sometimes sold as veneer sheets.

Sustainability: Not listed in the CITES Appendices or on the IUCN Red List of Threatened Species, indicating no immediate conservation concerns.

Common Uses: Utilized for utility lumber, furniture carcasses, boxes and crates, plywood, and laminated construction lumber. The burls, known as Mappa burl, find applications in drum shells, fine furniture, veneer, and inlays.

Additional Information: One cultivar of this tree, known as Lombardy Poplar (Populus nigra 'Italica'), was widely popular in the United States during the late 18th and 19th centuries, known for its tall and slender columnar growth. Black Poplar burl, referred to as Mappa burl, is a striking contrast to the otherwise ordinary and utilitarian lumber, prized for its decorative qualities and used in various high-end applications.

Related Species:
- White Poplar (Populus alba)
- Balsam Poplar (Populus balsamifera)
- Eastern Cottonwood (Populus deltoides)
- Bigtooth Aspen (Populus grandidentata)
- European Aspen (Populus tremula)
- Quaking Aspen (Populus tremuloides)
- Black Cottonwood (Populus trichocarpa)"