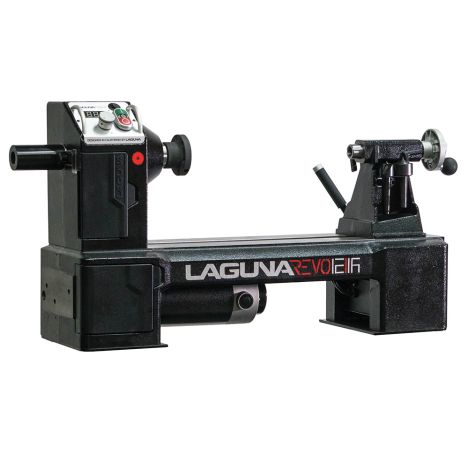 LAGUNA REVO 12|16
Pre-order
Original price
$999.99
-
Original price
$999.99
Not in stock. Ships direct from Laguna. Send us an email to coordinate.

The definitive midi-lathe, Laguna's REVO 12|16 encapsulates the prestige of Laguna in a small package. Featuring a Pulse Width Modulation system motor to maintain consistent torque at any speed, one step cam-action belt change with magnetic door housing, and a luxury banjo w/45º chamfered edge. The 1216 controls the 1hp DC motor using pulse width modulation. A big problem with DC motor control is torque at low speeds, and you will find many MIDI lathes with the lowest speed of 250RPM and higher because of this. This is because the cost effect controllers introduce resistance into the voltage to limit the power, which reduces the speed but also reduces the torque at the same rate. PWM will deliver full torque across the entire speed range. This allows for tremendous torque at low speeds which is helpful when roughing and precision work. This also allows for outboard turning up to a 16" bowl on a mid-sized lathe.

STANDARD FEATURES
24 Positions Index System with Lock & Transparent Window
Electronic Variable Speed & RPM Digital Read Out (DRO)
Pulse Width Modulation (PWM) Motor Control
Hardened 1045 Steel Tool Rest Leading Edge
Luxury Banjo with 45° Chamfered Edge
Live & Drive Center On-Board Storage
Forward & Reverse Spindle Rotation
1" REVO Compatible Tool Rest Post
ACME Lead Screw in Tailstock
Drive Center Knock-out Rod
Live Center & Drive Center
Oversized Handle Stops
Solid 3-1/2" Metal Brake
Magnetic Door Latches
Tool-less Belt Change
Faceplate Wrench
3" Faceplate
Motor: 1 HP DC Permanent Magnet Motor
Controller: Pulse Width Modulation (PWM)
Electrical Requirements: 110V-1PH-60HZ
Recommended Breaker Size: 110V - 15 AMP
Speed Range High 650 - 3500 RPM
Speed Range Mid 325 - 1750 RPM
Speed Range Low 50 - 525 RPM
Distance Between Centers 15.5"
Swing Over Bed 12-1/2"
Swing Over Banjo 9-1/2"
Max. Outboard Swing 16"
Spindle Bore 3/8"
Spindle Taper MT2
Spindle Thread 1"x 8 TPI (both ends)
Front Bearing 6006LLU
Rear Bearing 6005LLU
Indexing 24 positions w/ Lock
Drive belt Poly-V Belt 6 Grooves
Tail stock quill travel 2-1/2"
Tail stock taper MT2
Bed Length 29.4"
Tool Rest Length 6"
Tool Rest Post Dia. 1"
Faceplate Dia. 3"
Accepts vacuum chuck: No
Certification CSA C/US 256540
Floor to bed height 6.7" no pads
Floor to Spindle Center 13" no pads
Overall Size L29.4" W8.9" H17.4"
Shipping Dimensions L35.8" W14.6" H20.5"
Net Weight 118 LBS
Shipping Weight 125 LBS
 Note: This is the Lathe ONLY, attachments such as the stand, wheels, and bed extension in the pictures are optional additions.
Delivery time
Due to market conditions this item is availble for order but not curretly in stock. We will provide you with tracking info as soon as we have more information. If you would like specifics please reach out to us directly.