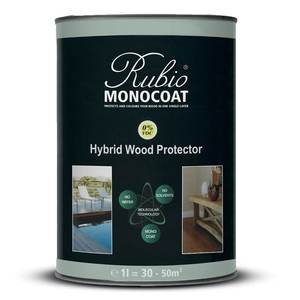 Rubio Monocoat Hybrid Wood Protector
Original price
$7.99
-
Original price
$165.99
Hybrid Wood Protector is a genuine 'monocoat', suitable for coloring and protecting exterior wood in 1 single layer. The easy application and maintenance makes this oil an exceptionally user-friendly product.
Based on RMC technology using integrated UV* stabilizer.
0% VOC, does not contain any water or solvents.
Suitable for almost all types of wood, can also be used for interior applications!
Available in

 

22 colors.
Easy to apply. Fast-drying.
Economical: minimum consumption.
Not film-forming. Does not flake off.
Maintenance with the same product. No need for sanding!
*Pure does not contain UV stabilizers and will not provide color stability against the natural aging of wood.

Note: Pure is non-pigmented. Natural is pigmented with yellow/white tones. Colors shown are on Pine, different wood species will have varying results.