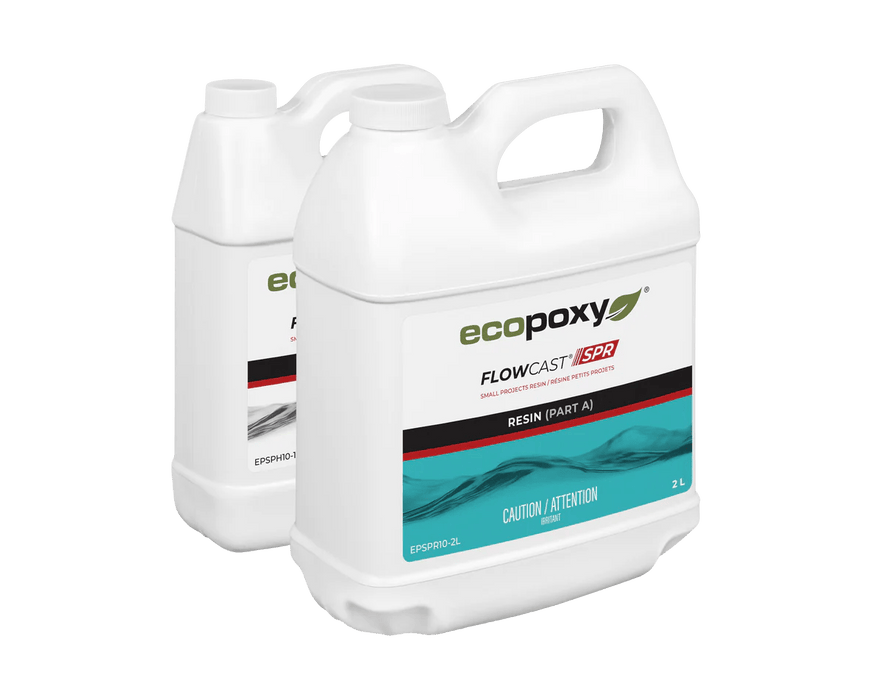 Ecopoxy FlowCast SPR Deep Pour Epoxy
Original price
$43.96
-
Original price
$719.96
FlowCast SPR is a two-component casting epoxy formulated for weekend woodworking projects. SPR stands for "Small Project Resin"

When used at one inch thickness, the maximum volume, and under the recommended
conditions, you can expect your projects to cure within 1 day*. Use FlowCast SPR
epoxy by itself for a water-clear finish or add liquid or metallic
pigments to create custom colors and effects. FlowCast SPR can be
used to create beautiful small scale live edge wood projects, such as
coasters and serving trays. For larger projects, such as river tables, use
our deep cast resin, FlowCast.
FlowCast SPR can be worked (trimmed, routed, sanded, and finished)
using the same tools you have in your wood shop. 
It is ideal for casting, encapsulating, and other applications requiring a high level of transparency. It is non-toxic and safe.
FlowCast SPR features a long work time and a low temperature cure, giving you plenty of time to perfect your project. FlowCast SPR has virtually no odour and can be used indoors without ventilation or bulky respiration equipment.
Cures rock hard
Crystal clear
UV resistant, does not yellow
High bio-content
Easy to use & low odour
100% solids
Can be poured to a thickness up to 1"
Ideal for woodworking such as river tables