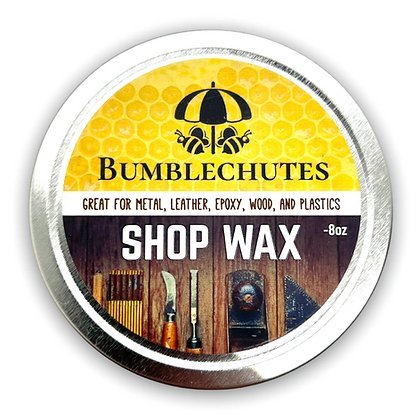 Bumblechutes Shop Wax
Original price
$12.99
-
Original price
$18.99
Great for Metal, Leather, Epoxy, Wood, and Plastics!
Description
The Shop Wax is the perfect mix of 100% all-natural ingredients to keep your workspace looking and performing like brand new! We have formulated this paste wax specifically for shop equipment, but there are plenty of different applications. From metals to plastics, the Shop Wax was developed with the creator in mind.
When using other paste waxes, the chemical odor ruined the experience when caring for our shop tools and equipment, so we made sure that ours is enjoyable. This all-natural formula has a vibrant lemon scent that will keep your workspace smelling clean for days. Plus, all of the beeswax used is from verified professional beekeepers in The United States of America! So, you know that you are getting the purest beeswax available. Unfortunately, other companies use pelletized beeswax from unknown sources that are guilty of cutting the beeswax with cheap paraffin wax. Our research is what makes us better. When you have the highest quality of ingredients, you produce the highest quality products.
What can you use this on?
Table Saws
Cast Iron
Leather Boots
Wooden Table Sleds
Screws Going into Hard Woods
Wooden Cutting Boards
Epoxy Charcuterie Boards
The Possibilities Are Endless!
Benefits
This new Shop Wax has revamped ingredients and ratios to keep the rust away on metals and helps keep the surface clean. Our perfect mixture of carnauba wax and beeswax allows moisture to be repelled while adding a durable top coat. This formula is 100% food safe and meant to be used as an all-purpose shop wax, so you do not have to worry about harmful chemicals while caring for your equipment.
How To Apply
Clean the surface from any debris or other materials. Then apply a thin layer of the Shop Wax with a dry, clean cloth and rub onto the surface until there is an even coat throughout. Allow 20-30 minutes of soaking time for porous materials prior to buffing. For non-porous surfaces, buffing may be done immediately.