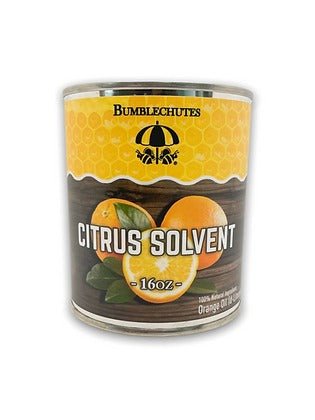 Bumblechutes Citrus Solvent
Original price
$34.99
-
Original price
$65.99
The Bumblechutes Citrus Solvent is a 100% bio-based product produced by vacuum fractional distillation process of orange oils. This Citrus Solvent is considered food grade and finds use in a variety of ways throughout households to help clean and degrease surfaces. Also found in numerous workshops, this Citrus Solvent can be used to help thin wood finishes for better saturation in projects. With benefits over many other solvents due to its excellent solvency, The Bumblechutes Citrus Solvent has a high degree of biodegradability and derivation from renewable resources. This is the Natural Solvent Alternative you have been waiting for!
Directions-
For Cleaning – Apply the Citrus Solvent with either a cloth or a brush by spreading the solvent onto the surface. Wait a few minutes and wipe away the residue for a fresh and clean surface. Reapply as necessary.
For Thinning Oils – Add the Citrus Solvent for the proper ratio and thickness that best suits your project. More Citrus Solvent is better for earlier coats of finish to help saturate the project more efficiently, while later applications will require less solvent.
Food safe
Eco Friendly and 100% Plant Based
Does not produce harmful fumes
100% recyclable containers
Important Notes-
Do not consume and avoid eye contact. If either occur, contact a medical service specialist immediately.
Product Care-
For best results, store at room temperature and ensure the lid is properly secured when not in use.