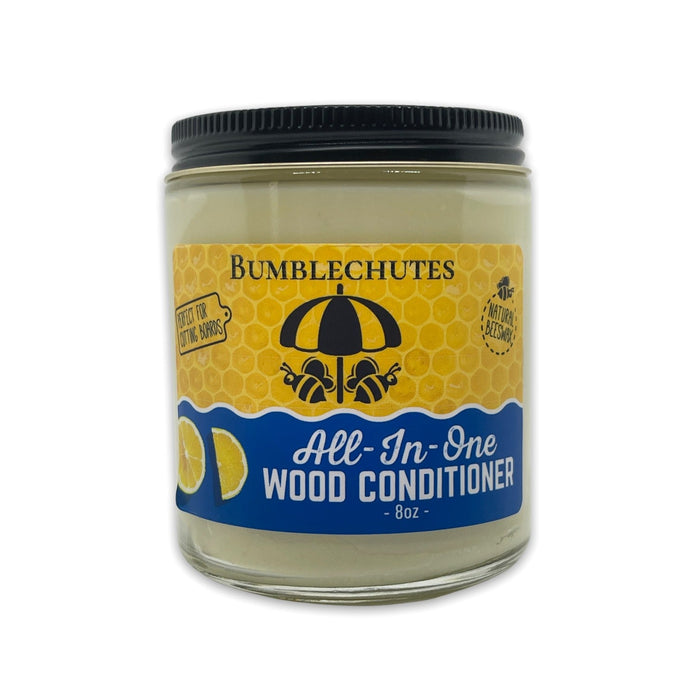 Bumblechutes All-In-One Wood Conditioner
Original price
$3.99
-
Original price
$26.99
Description
100% All Natural and Pure Ingredients
*Petroleum and Solvent Free*
Made with only food-safe ingredients, the All-In-One Wood Conditioner is exactly what is needed to rid harmful moisture, saturate the wood fibers, seal the oil, and protect your wooden kitchenware. This special batch of ingredients will provide a level of protection for wood while providing a warm look that will highlight the natural colors and leave a silky smooth surface. All of the beeswax used in our conditioners are verified professional beekeepers from The United States of America!
Our All-In-One Wood Conditioner also helps to prevent chipping, swelling, protects against UVA and UVB rays, and even acts as an antibacterial agent!
This all-natural formula has a vibrant lemon scent that will keep your room smelling clean for days.
What can you use this on?
Wooden Cutting Boards
Wooden Bowls
Wooden Butcher Blocks
Wooden Utensils
Wooden Rolling Pins
Garden Beds
Antiques
Gun Stocks
Any wooden surface that is not sealed with a hardener such as polyurethane, lacquer, or paint.
Benefits
When wood dries out, it will start to chip and crack apart. Once this happens, sharp edges appear and can cause discomfort while also becoming ruined. The Bumblechutes All-In-One Conditioner seeks out the driest area of wood and moisturizes it. The 100% pure and natural beeswax and carnauba wax mixture provides a barrier above the wood that helps seal in the moisture.
How To Apply
Clean – Dry – Apply
For best results, use the Bumblechutes Hydrating Wood Serum prior to this All-In-One Wood Conditioner to provide the best hydration.
It is important to start with a clean surface, so wash your kitchenware first. We hand wash all of our wooden kitchenware, and do not use a dishwasher as that can swell and warp the wood. Take a clean cloth and dry the entire surface of your wooden cutting board, butcher block, utensils, or whatever you are about to apply the conditioner to. Once your surface is dry, apply the conditioner to all sides of the wood. It might take a few coats if the wood is new, so be generous when you apply the conditioner. Our preference is to use a clean cloth and buff the conditioner into the wood for a few moments until you feel that there is an even coat. Wood can soak oil differently into different spots, so feel free to add more in certain parts that are soaking in more than others. As this conditioner sets over time, the waxes will harden and provide a barrier from UV rays, moisture, and helps prevent bacteria growth! As soon as you notice your kitchenware is dry to the touch after a few weeks or months, apply again in the same manner as described above.