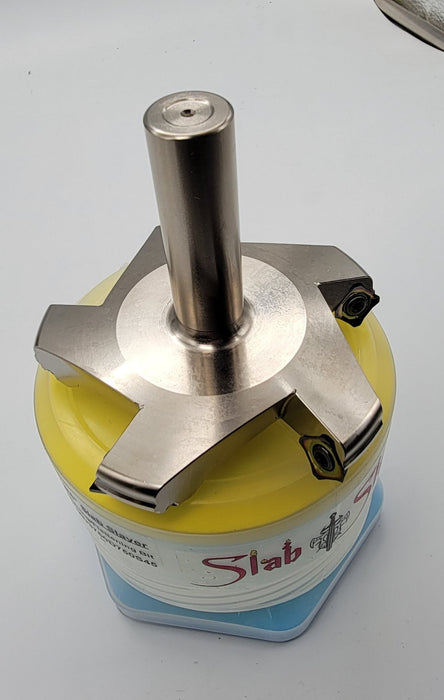 R.I.P. Precision Tools 3.75" Surfacing Bit - Slab Slayer- 3/4" Shank
Original price
$259.00
-
Original price
$318.00
This surfacing bit IS NOT recommended with the Clean Cut Router Sled!

Cutting Dia. 3.75"
Body Dia. 4.2"
Shank Dia. .750"
Over All Length 4.0"
Electroless Nickel Plated Heat Treated steel body
Insert Style  45 Degree
DLC Coated

Perfect For
Resurfacing Spoil boards
Flattening and Surfacing Slabs, lumber and wood panels
for use in both Both CNC and Router Sleds
Chamfering edges
Epoxy Surfacing
 
Exceptional performance and finish quality in the following materials
Soft and Hard Woods
MDF/Chipboard/Plywood
HDF/HDU/LDF/HDPE
Epoxy
Acrylic/Plastics
Product Features
uplifting Vortex greatly increasing chip extraction
4 Sided DLC Coated inserts provide exceptional finish quality
45 Degree design allows tool to be used to chamfer edges and plunge up to 7/16" deep
Quietest and most efficient tool on the market 
Introducing a new breed of surfacing bit !
This crossover surfacing bit is designed for fast, efficient surfacing and flattening.
The razor sharp solid carbide inserts and positive rake produce a blemish free smooth surface on end grain wood and epoxy with no chip out in epoxy finishes commonly seen with the standard surfacing tools on the market.
45 Degree style means less force needed to cut the same material! And greatly reduced drag and tool wear compared to typical 90 degree style tools where the entire length of all inserts are dragging across the material.
Efficient cutting that requires less HP than any other tool on the market. Better chip extraction thanks to the specialized geometry of the flutes that create lift and pull chips up into the dust boot rather that eject them to the side.
Phenomenal Finish that requires little to no secondary sanding operations. Smooth as glass finish on end grain!

And unlike most surfacing tools, the Slab Slayer can plunge cut up to 7/16" deep. It can be used for large pocketing operations, or as a chamfering tool with its 45 degree side cutting edge.
Speaking of cutting edges? The inserts are designed with razor sharp cutting edges, positive rake and geometries that help with chip control and cutting efficiency.

Like all of our tools, the inserts are DLC coated for Extreme durability, greatly increased tool life and Superior finish!