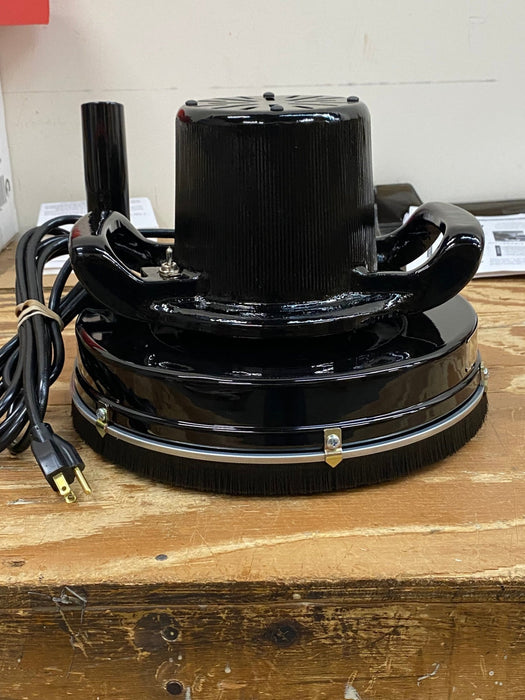 Gem Industries 11" Orbital Sander/Polisher For Woodworking
Pre-order
Original price
$459.95
-
Original price
$659.95
DUE TO SUPPLY CHAIN ISSUES, GEM PRODUCTS MAY EXPERIENCE AN EXTENDED SHIP SCHEDULE. PLEASE SEND US AN EMAIL TO RECEIVE THE LATEST LEAD TIME.

This heavy duty machine runs at 1700 "orbits" per minute without the possibility of creating the swirl marks associated with high-speed rotary buffers. Smooth, hand-polish action safeguards against surface damage. GEM's counter weight system is well balanced and smooth running, so you can guide the sander over the surface and let the 18 lbs. of weight do the work for you.
GEM's orbital action sands, polishes and finishes with a motion like that of the human hand! Sands equally well and uniformly on solid surface and wood products.
The GEM Orbital comes with a Hookit fastening system for use with Micron Paper, Trizact™ and Finishing Pads.
Specifications

Weight: 18 lbs.
Overall height: 10 in.
Amps: 2.3@110v, 1.2@220v
RPM: 1,700@110v
Motor: 110v/220v
Housing: heavy-duty aluminum

Features

Heavy-duty ball bearing capacitator motor
No gears to grind or strip out
No armature winding to burn out
No carbon brushes to burn out
Exclusive removable shaft system
Sands, polishes and finishes
MANUFACTURER BACKORDER
Estimated Ship Times: 10 - 14 business day after ordering
This item is shipped directly from the manufacturer who is currently building units as they are ordered. Several components are experiencing supply chain issues. 

The manufacturer has given us an estimated window for new orders. This window will be updated regularly. We expect ongoing backlogs on power tools given current supply chain trends. Placing your order now will reserve your place in line for the next available shipment.
Placing your order today has reserved your place in line, we will update you as soon as we receive any updates or tracking information from the manufacturer.
Delivery time
Due to market conditions this item is available for order but not currently in stock. We will provide you with tracking info as soon as we have more information. If you would like specifics please reach out to us directly.