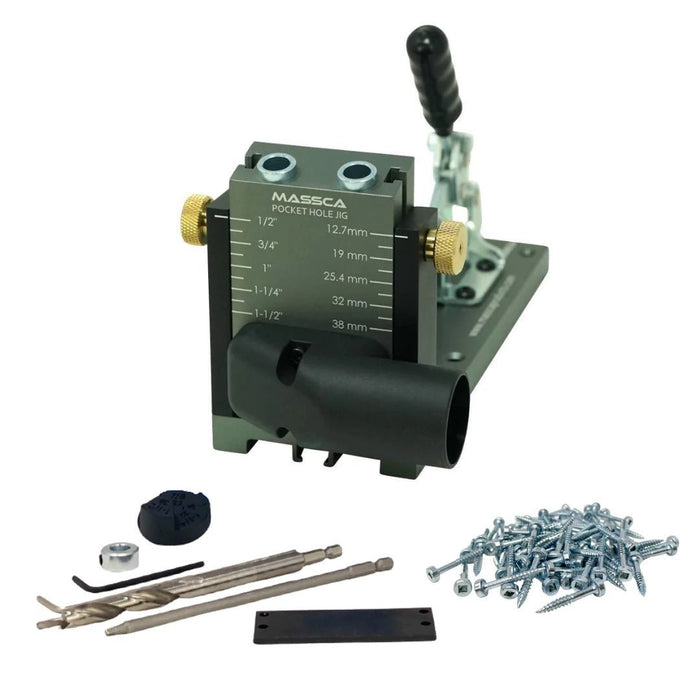 Massca Aluminum Pocket Hole Jig Kit ( M1 )
Sold out
Original price
$89.99
-
Original price
$89.99
Massca
®

 M1 Aluminum Pocket Hole Jig System

We believe in quality.

Heavy-Duty Aluminum Body – The Massca Pocket Hole Jig System M1 features a well-balanced full-body aluminum & hardened steel drill guides to provide a reliable woodworking support base in shops or garages. Our aluminum build ensures a tough and heavy-duty pocket hole jig that's meant to last a lifetime and also, feels sleek to the touch.

Advanced Hole Precision – Create perfect pocket-holes, repair wood joints, and accurately pre-drill pilot holes at the right angle before connecting wood boards.

Dust Spout Connector & T-Track Slot – Easily capture loose debris, particles, and sawdust while creating your pocket holes with our dust port system to reduce allergens in the air for dust-free drilling. Our Pocket Hole Jig System also features a T-track slot on the underside of its body. Clamp down our jig system to any surface, obstruction free with any fitting track-saw clamp.

Adjustable Depth Setting – Each pocket hole jig system features an easy drill depth knob to let quickly adjust to the thickness of the wood to avoid damage, splinters, or splits.

Extra Carpentry Accessories– We've added a hex key, stop collar, set of screws and drill bit to help set the right depth, make a few choice pocket-holes, and start creating wood projects.

Includes:        
(1) M1 Pocket-Hole Jig
(1) Hex shank quick release stepped drill bit 3/8 (9.5 mm) Diameter HSS

(1) Depth collar for stepped drill

(1) Square drive screwdriver bit: No 2 x 6" (150 mm)

(50) Self-tapping square head screws in different sizes

(4) Bench fixing screws

(1) Hex key for the stop collar

(1) Hex key for using a portable base

(1) Portable base adapter plate

(1) Drill depth turret stop

(1) Dust spout

(1) Manual

Delivery time
Due to market conditions this item is available for order but not currently in stock. We will provide you with tracking info as soon as we have more information. If you would like specifics please reach out to us directly.