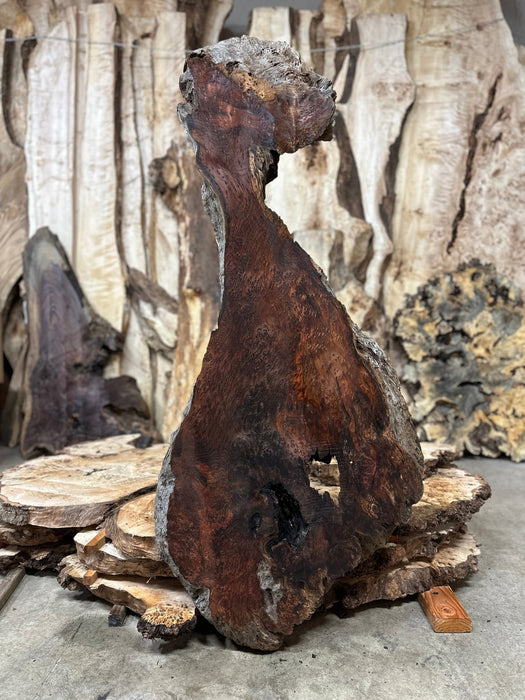 LiveEdge Redwood Burl
Original price
$1,290.00
-
Original price
$1,290.00
Species: Redwood Burl

Length: 53"
Width (Bottom): 16"
Width (Middle): 10"
Width (Top): 10"
Thickness: 2.875"
Board Foot: 12.7 BDFT
Weight Estimate: 53 Pounds

Origin: Washington

Shipping Information:

-Slab Ships From: Battle Ground, Washington
-All slabs are subject to freighted shipping. Once purchased, we will contact you via email to coordinate and secure the best negotiated shipping rate for your location. Shipping costs are based on your zip code, residential/commercial address classification, and whether a liftgate/forklift is required.
If you can't find a slab that perfectly fits your needs among our listed options, feel free to reach out to us directly. We can check our inventory for additional slabs that may suit your preferences.

Contact Information:

-Email: info@hamiltonleesupply.com
-Phone: 360.601.8388

Transform your vision into reality with our remarkable Live Edge slabs. Embrace the artistry of nature in your next woodworking project and create a unique masterpiece for your home.

Crafted with precision and attention to detail, this kiln-dried slab is project-ready, ensuring minimal wood movement and cracking. Our state-of-the-art iDry vacuum kiln removes moisture, guaranteeing its suitability for your project right away.

Please note that as each tree is unique, no two slabs are alike. This individuality guarantees that your furniture piece, whether it's a table, shelf, or any other creation, will be truly one-of-a-kind.

At Hamilton Lee Supply, we are committed to preserving and reusing stunning wood materials. Our focus on sustainability means that every slab tells a story and contributes to a greener future.