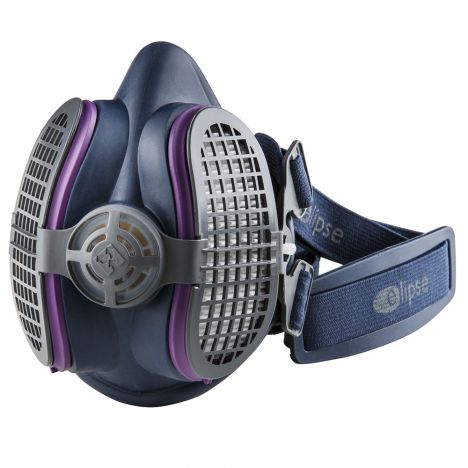 Elipse P100 Half-Mask Respirators
Sold out
Original price
$29.00
-
Original price
$29.00
These Elipse P100 Half-Mask Respirators from GVS are designed to protect against dust particles, metal fumes, mists, oil and water vapors, and even some micro-organisms.
They are suitable for everything from DIY use to commercial construction, including the demanding environments of metalworking and stonemasonry.
Each mask includes two low-profile filters, which permit a wide field of view, and won't interfere with safety glasses, sanding shields and welding hoods. The compact shape of the filters also prevents them from getting bumped or snagged when you raise your arms for overhead work. The filters are easily interchangeable, and replacement filters are readily available.
Features:
Approved by NIOSH (National Institute for Occupational Safety and Health); NIOSH approval number: TC-84A-5395
Close-pleated composite hydrophobic (water-resistant) material allows the HESPA filters to provide maximum particulate protection
Lightweight thermoplastic elastomer facepiece adapts to the contours of your face, and is hypoallergenic (latex-, silicone- and odor-free)
Low profile filters provide a full range of vision without interfering with eye or ear protection
Large central valve allows for low breathing resistance and less moisture build-up inside the mask
Lightweight, non-slip strap is easily adjusted in 4 positions
Notice: The Standard mask (Small/Medium) fits approximately 70-80% of people. The Large mask (Medium/Large) is for people with a slightly larger head or elongated face. If you wear a large hat or have had problems with masks being too small in the past, you may want to consider this size.
Delivery time
Due to market conditions this item is availble for order but not curretly in stock. We will provide you with tracking info as soon as we have more information. If you would like specifics please reach out to us directly.